Me and my partner, Maxim love to dress up for Halloween. We love doing couples Halloween costumes because they let us be creative and work off a common theme.
Throughout the years, we've dressed as bloodthirsty vampires, scary ghosts, and Hitchcock characters.
Most of our looks are DIY and come from my closet, Amazon accessories & our imaginations. Here are 6 of my favorite couples costumes to inspire you this Halloween.
---
1. Mother Nature & Charming Raven
Scariness factor: 👻👻/5
I met him fortnight
While on a walk in the woods.
His tongue was of silver
And heart was no good.
Seduced me, O raven
With feathers of jade 🪶
For I, Mother Nature 💐
Was a trusting babe.
Together we danced
And laughed on moss green.
You will find us again
Hand-in-hand
On Halloween!
On Her: Sheer White Dress, Vines, Flowers, Branch Antlers.
On Him: Jade Shirt, Lace, Feathers, Raven Mask.
---
2. Feather Witch & Voodoo Priest
Scariness factor: 👻👻👻/5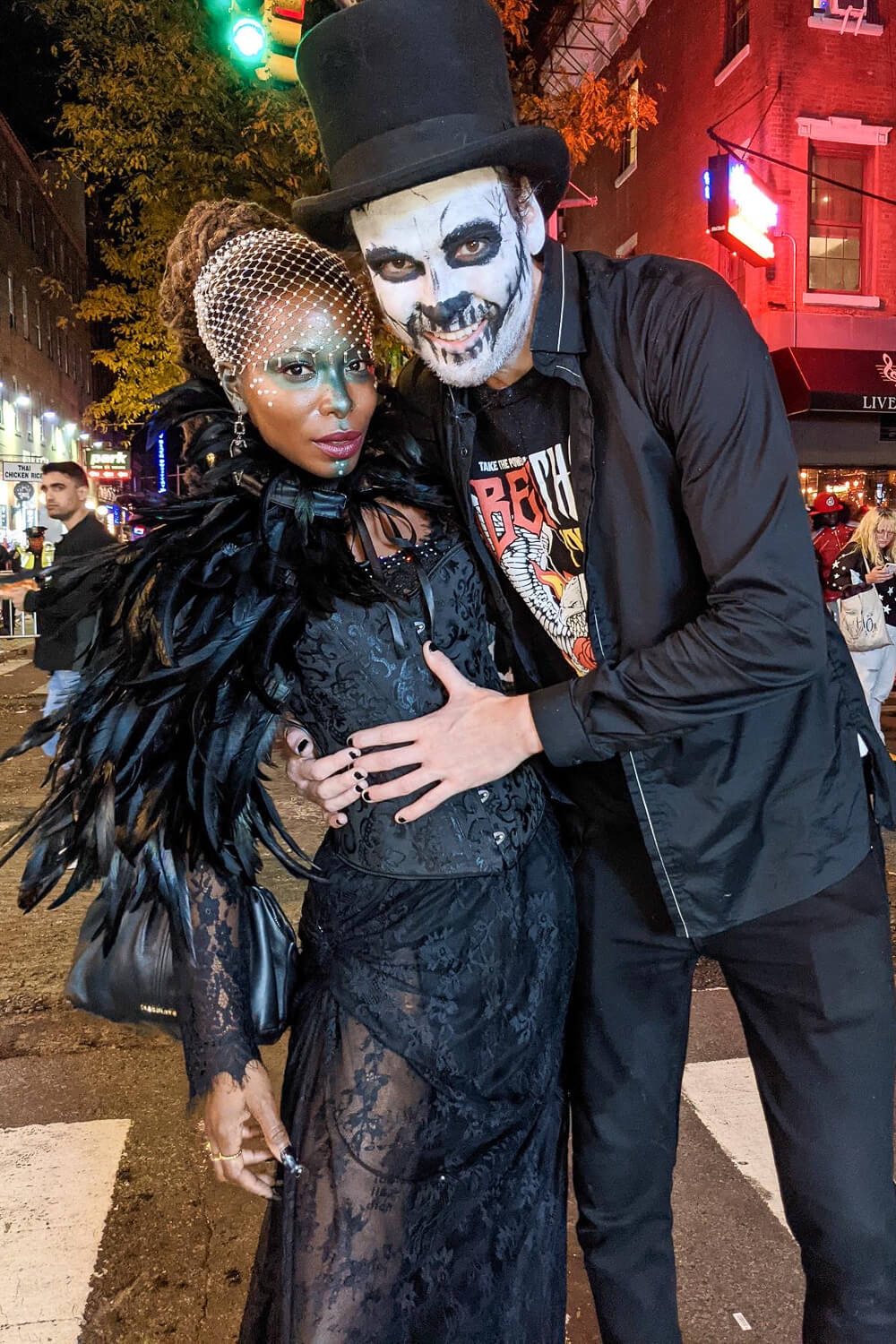 One of my favorite costumes from recent history. I drew inspiration from witchy feather collar that I saw on Amazon (get it here) and built my whole look around it. I added a dark gothic corset over a lacy black dress and a pearl fascinator. Maxim donned an all-black outfit with skeleton face paint and a top hat to match my look. My look came out very sexy & mysterious at the same time.
On Her: Feather Collar, Gothic corset, Lace Maxi Dress, Pearl Fascinator.
On Him: Face Paint, Top Hat, Black Outfit.
---
3. Dark Medusa & Satyr
Scariness factor: 👻👻👻👻👻/5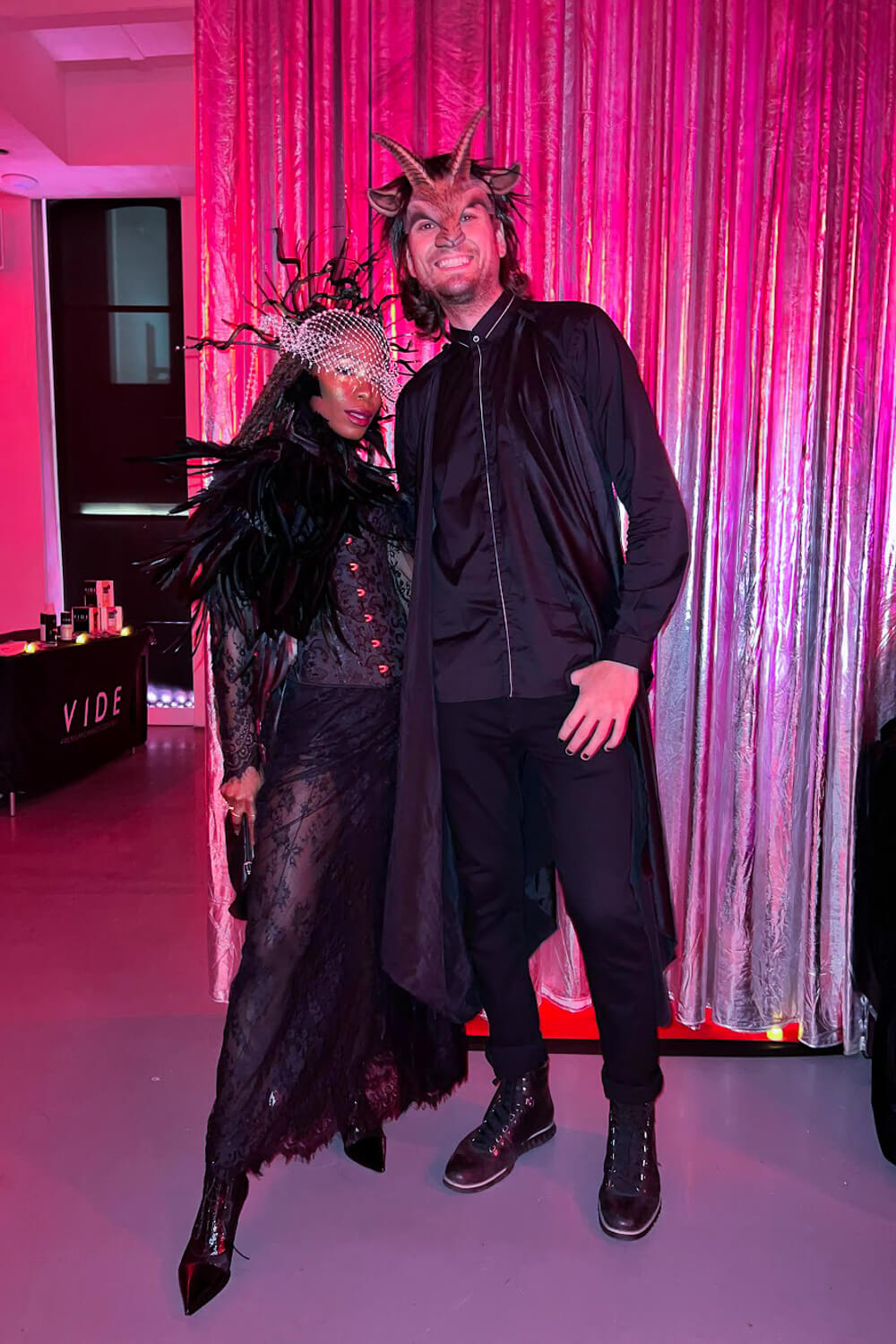 A twist on the previous outfit! If you are going to Halloween parties on different days and don't want to wear the same outfit, re-imagine your look. I love to add or remove items to the base outfit to create a brand-new costume. Here I've added a DIY medusa headpiece that was a show stopper. I made it by getting a metal headband and adding black spray-painted zip ties and rubber snakes on top. Maxim wore a goat mask and a cape to turn into my unholy minion.
On Her: Medusa Headpiece, Feather Collar, Gothic Corset, Black Lace Dress.
On Him: Goat Mask, Black Cape, Black Shirt & Pants.
---
4. Queen & Her King
Scariness factor: 👻👻/5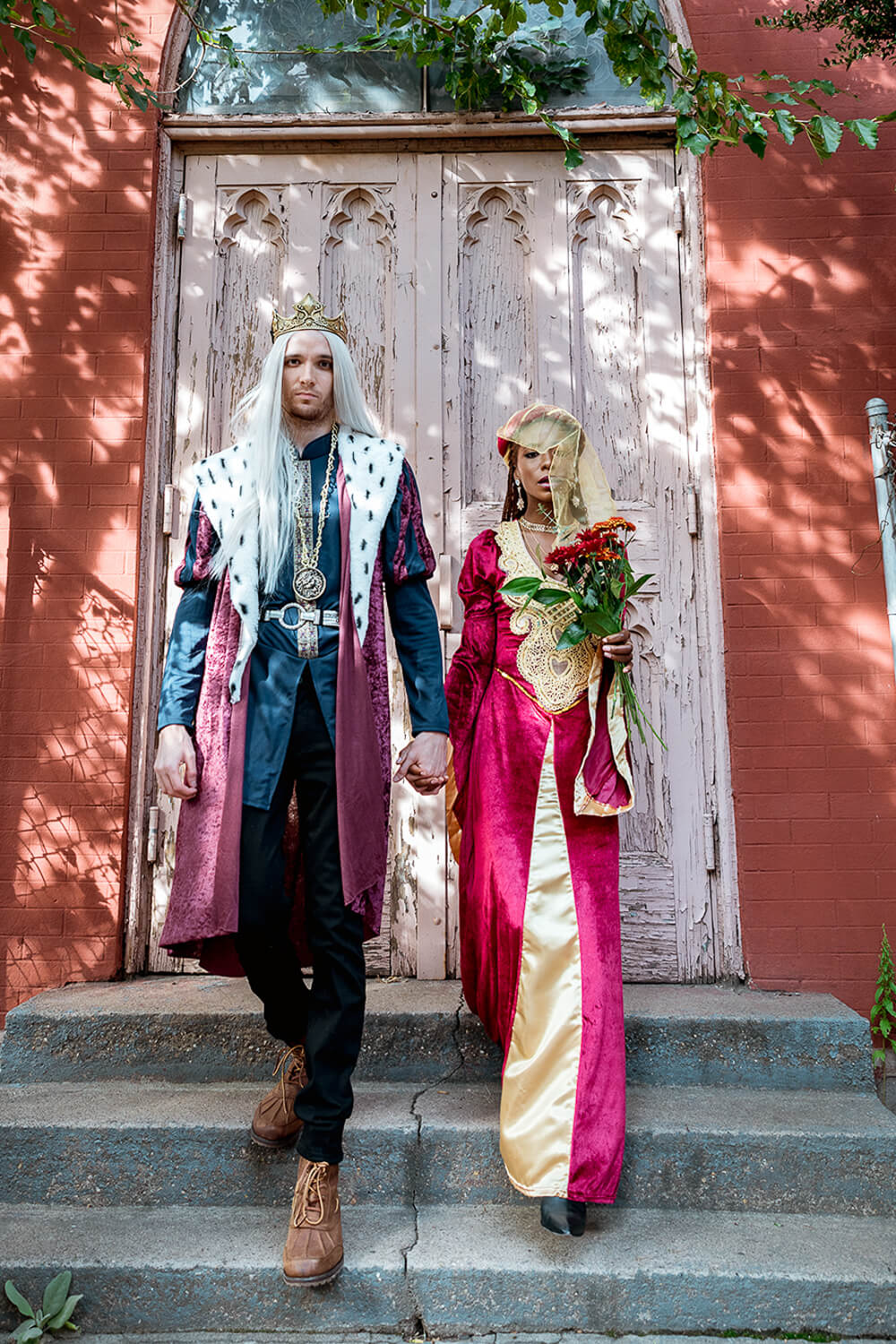 We did this costume for Halloween in 2019 (we had to skip 2020, thanks Covid!) and it was a blast to wear and shoot in. You can go in so many directions when dressing up as Royalt. Think House of the Dragon, the Targaryens & other shows set in Medieval times. It might not be the creepiest costume until the heads start to roll…
On Her: Crown, Royal Robe, Gold Jewelry, Boquet of Flowers.
On Him: Crown, Blonde Wig, Royal Cape & Furs, Sword.
---
5. Vampire & Red Ghost Duo
Scariness factor: 👻👻👻👻👻/5
Ok, this couples Halloween costume is a little more spooky. I went with a ruby-red spirit of vengeance. Maxim did a more classical but still creepy vampire with fangs and pale white face paint.
On Her: All Red Outfit, Platinum Blonde Wig, Red Contact Lenses.
On Him: Top Hat, Pale Face Paint, Fangs.
---
6. Norman Bates (Psycho) & Femme Fatale
Scariness factor: 👻👻/5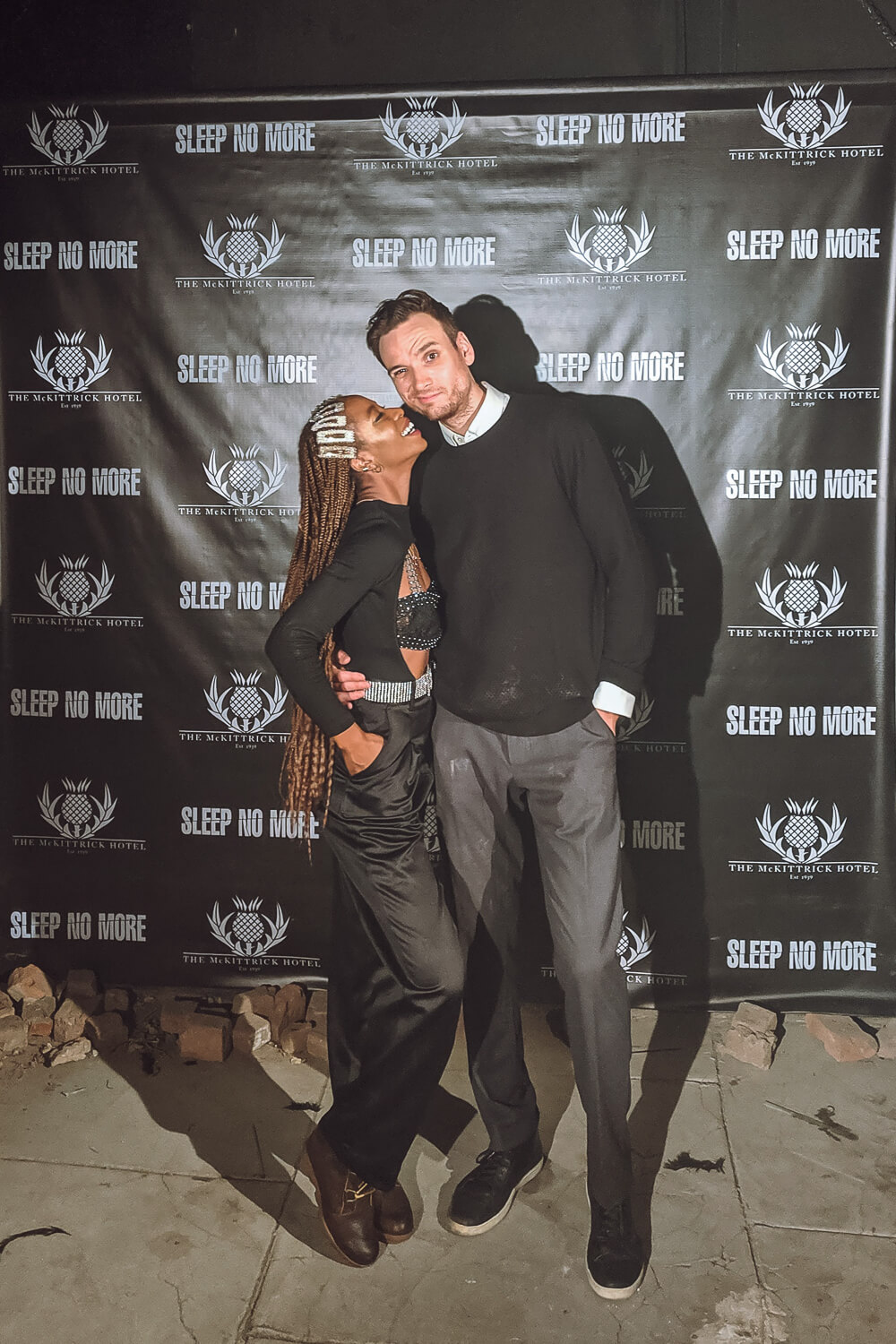 These Halloween costumes were for McKittrick Hotel's Hitchcock Halloween Party. We paid our tribute to the master of suspense with a take on one of his most popular shower killers – Norman Bates. I matched the look as a mysterious & seductive Femme Fatale. Together we made a quite deadly pair.
On Her: Black Everything, Rhinestone Top & Belt, Hairclips.
On Him: Gray slacks, White Shirt & Black Sweater, Crazy Eyes.
---
7. Axl Rose & Slash from Guns N' Roses
Scariness factor: 👻/5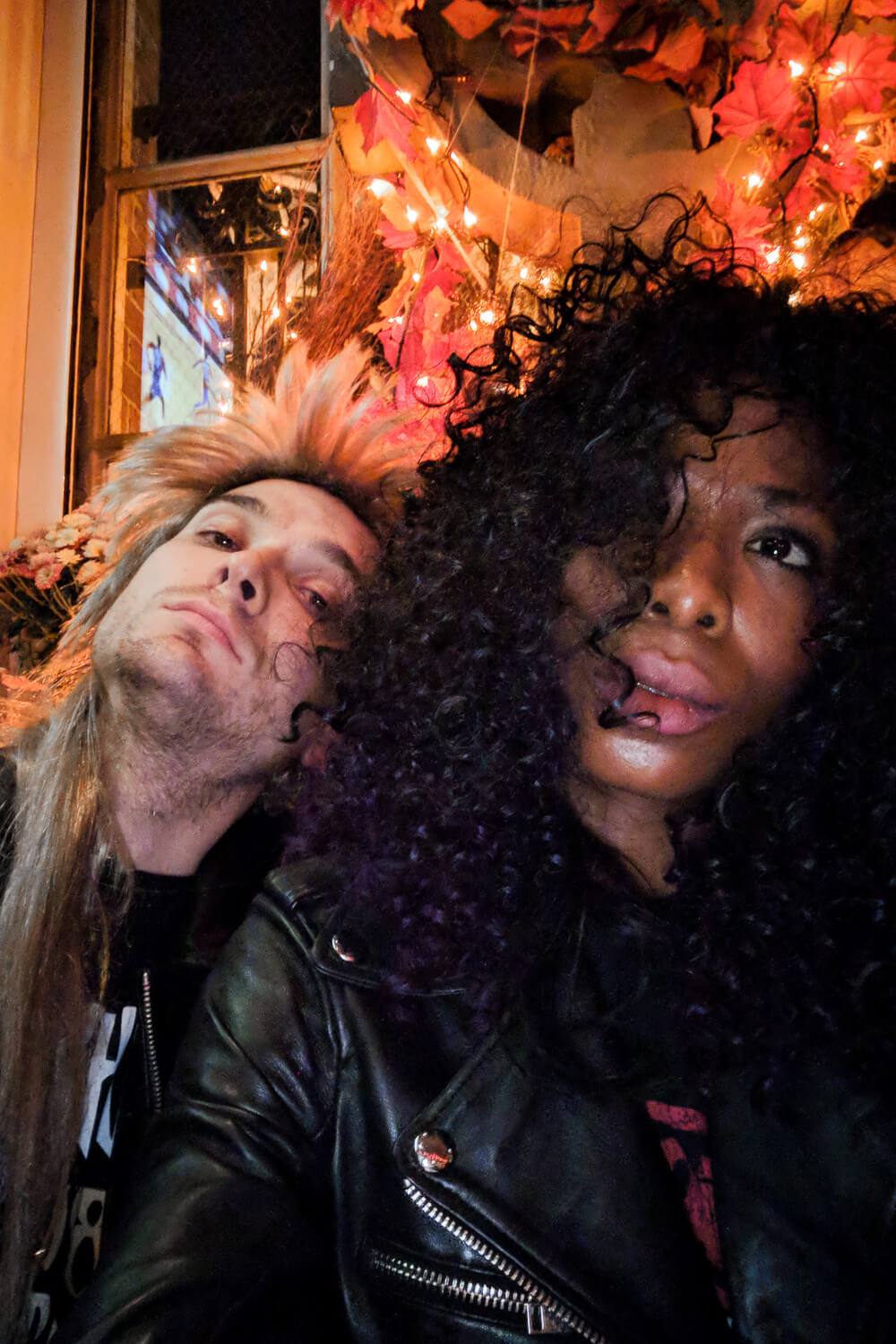 For our last couples Halloween look we went with Rock'nRoll legends – Axl Rose & Slash. Clad in leather from head to toe, we channeled our inner rockstars and partied all night.
"Welcome to the jungle, we've got fun and games!"
On Her: Leather Pants, Black Curly Wig, Trucker Hat.
On Him: Leather Pants, Blonde Wig, Bandana.
---
I hope our couples Halloween costumes inspired you. Let me know what you are wearing this Halloween in the comments below!