Hair accessories are making a serious comeback, and we couldn't be more excited! The '90s favorites, such as clips, pins, barrettes, and headbands, are back and more stylish than ever.
The best part? They're not just for kids anymore! We're seeing them on runways and on the streets, styled in unique and grown-up ways that are anything but childlike. Men and women alike are jumping on this trend, and it's easy to see why: it's the perfect way to elevate any hairstyle.
Whether you're looking for a no-fuss everyday look, a glam look for date nights and cocktail parties, or something to add a little pizzazz to a casual look, here are 5 easy ways to style hair clips.
Looking for more style inspiration? Check out our full Fashion Gift Guide.
Disclosure: Our team has curated all products on this page. However, we may make a commission on some products.
---
1. Go Bold With Pearls
Pearls are back in a big way! No need to raid your grandmother's jewelry box, the modern pearl clip is anything but cheesy. It's the perfect way to elevate your hairstyle and make a statement without going over the top. Don't be afraid to experiment with placement – adorn your updo by carefully placing two or more clips on either side of your head, or go for a daring look by placing them all across your head for a stunning and striking effect. The options are endless, so why not add a touch of timeless elegance to your locks?
---
2. Keep It Minimal
If you are a minimalist who doesn't want your hair accessory to steal the spotlight from your overall look, go for a simple clip or one large statement clip that will complement your outfit. This will be sleek yet well-balanced. The clip will make a statement all on its own. Play with other accessories like simple earrings and necklaces to complete your overall look.
---
What are the Different Types of Hair Clips?
There are a variety of different types of hair clips to choose from, each with its own unique design and purpose. Some of the most popular types of hair clips include:
Alligator Clips: These are long, narrow clips with teeth that grip onto hair to keep it in place. They're great for sectioning hair when styling or for creating updos.
Bobby Pins: These are small, U-shaped clips that are perfect for holding small sections of hair in place or for securing flyaways.
Barrettes: These decorative clips come in a variety of shapes and sizes, often featuring designs like flowers, stars, or animals. They're great for adding a pop of color or sparkle to an outfit.
Claw Clips: These are large clips that open and close with a claw-like mechanism. They're great for securing thicker hair in place or for creating a messy bun.
Snap Clips: These are small, flat clips that snap open and close. They're great for holding small sections of hair in place or for creating intricate braids.
3. Shine Bright Like A Diamond
Jeweled-toned crystal hair clips are the perfect accessory for you if you're looking to add some sparkle and color to your hair! With a range of candy-colored stones and intricate designs, they're guaranteed to add a touch of fun and glamour to any look. For a more understated approach, you can wear just one clip on its own. But if you're feeling bold and want to create some drama, try stacking multiple colors together for a look that's fit for royalty.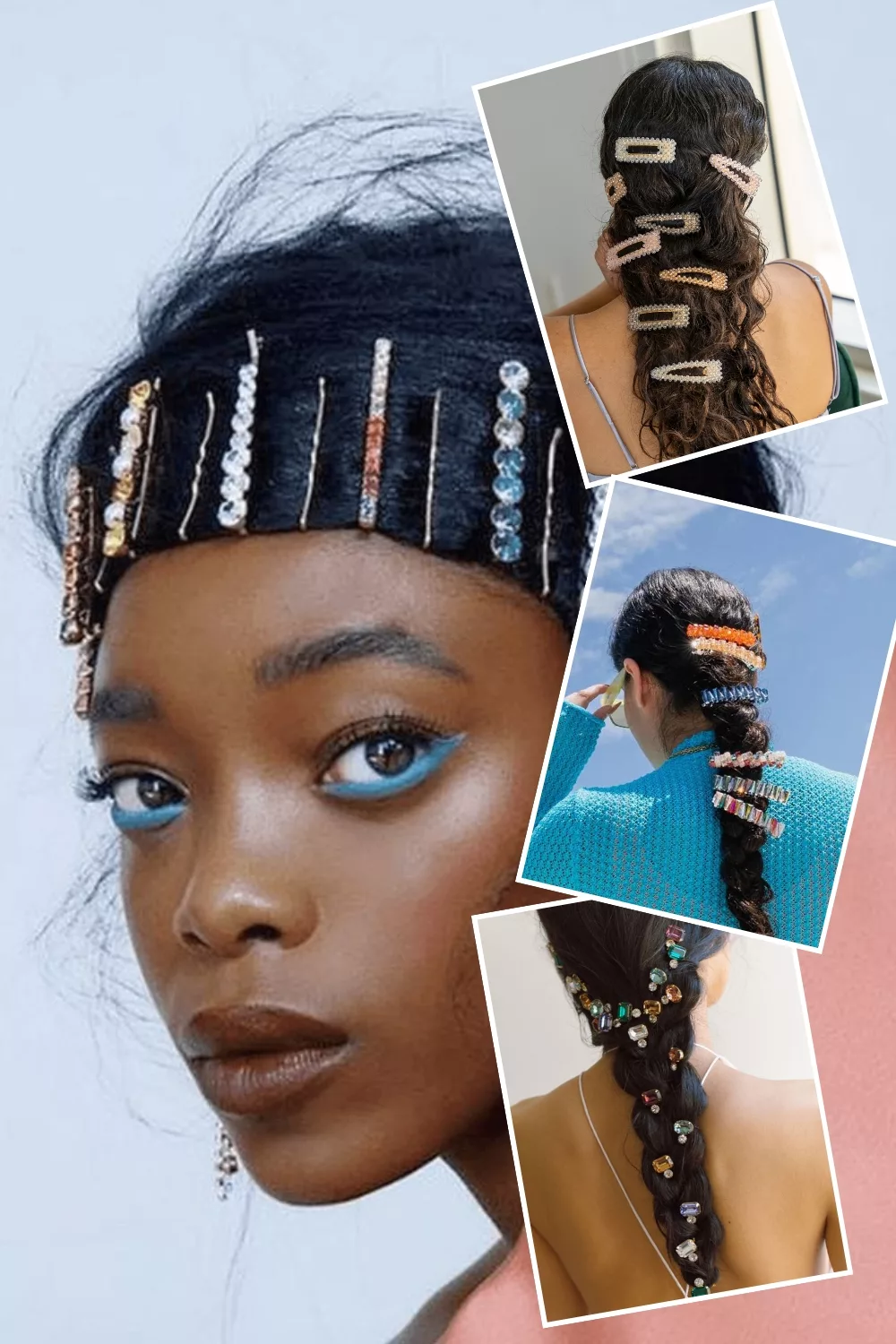 ---
4. Think Outside The Box
Circular hair clips are a refreshing change from the typical angular options available on the market. They add a subtle yet edgy contrast to any hairstyle, making them a perfect choice for those who want to stand out from the crowd. By opting for circular clips, you can go against the grain and showcase your unique style. These accessories are versatile and can be paired with a variety of hairstyles, from sleek ponytails to messy buns.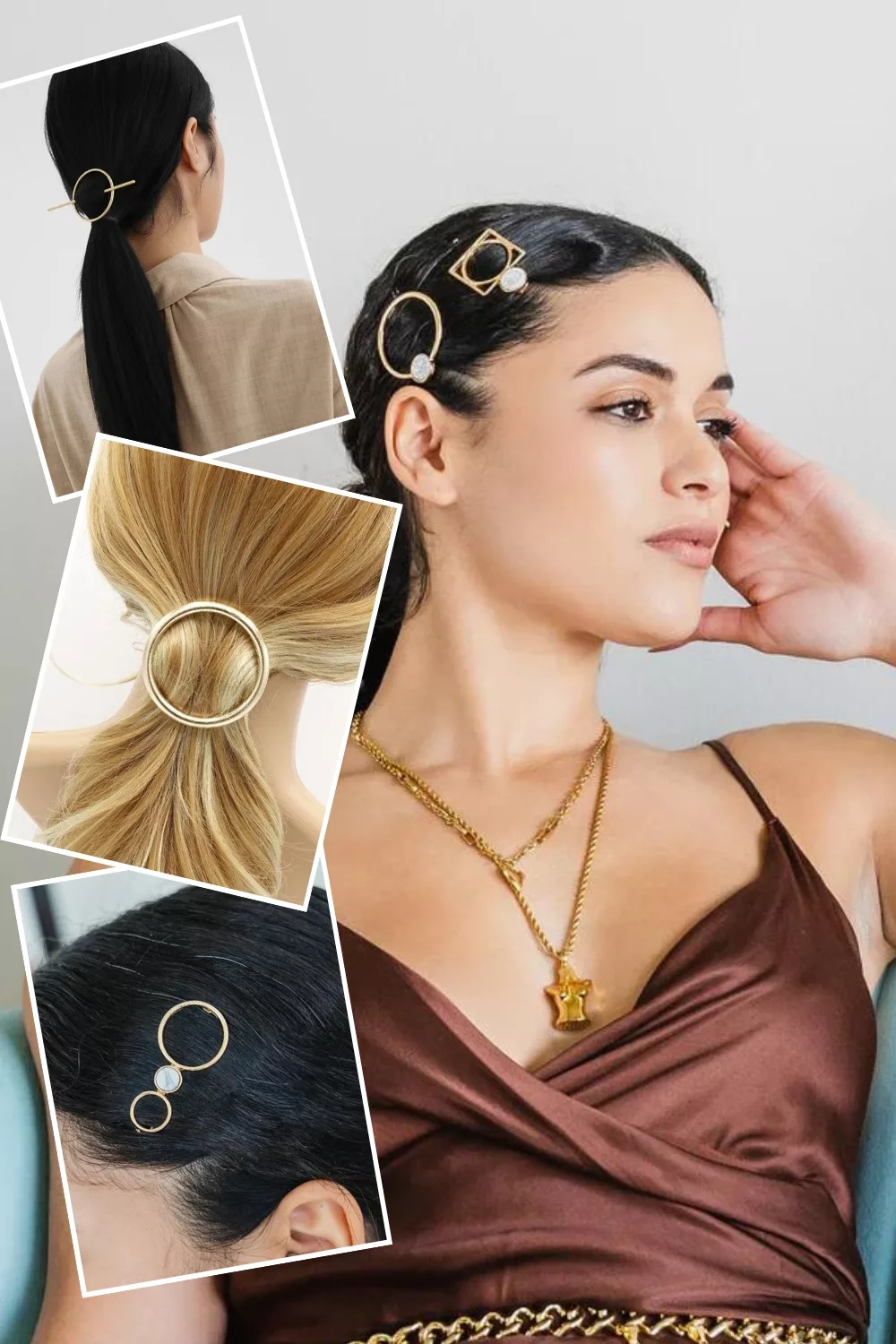 ---
Fashion Trends That Are Making a Comeback in 2023:
In addition to hair clips, these are the other trends from the 80s, 90s & 2000s that are making a comeback this year:
Denim is back. This timeless material is making a fashion comeback this year and it's so much more than just jeans. Bold denim corsets, high-waisted denim skirts, oversized denim jackets, and long denim dresses – these are the denim trends you need to know.
Slip Dresses & Leather Coats. Looking for a cool date night outfit? Try a black lace slip dress with a faux leather trench coat. It's sexy, chic, and edgy all in one. Pair it with heels and a clutch for a dressed-up look, or boots and a denim jacket for a more laid-back vibe. It's a chic date night look that exudes both elegance and edge.
Genderless Jewelry. Traditionally, jewelry has been marketed and designed with specific gender roles in mind. For example, women's jewelry has often been more dainty, with more feminine motifs like pearls or hearts. However, genderless jewelry aims to challenge these traditional gender roles by creating pieces that can be worn by anyone, regardless of gender identity.
5. Get Creative And Play
One of the best things about styling your hair is that it's a chance to show off your personality and mood. Whether you're feeling funky and daring or soft and romantic, there's a hairstyle and accessory combo that's perfect for you. Don't be afraid to mix and match different accessories and styles to create a unique and personalized look that's all your own. Whether you're headed to a fancy event or just hanging out with friends, your hair can be the ultimate accessory to complete your look and make you feel confident and beautiful. So go ahead, play around until you find the perfect vibe that fits your mood and personality.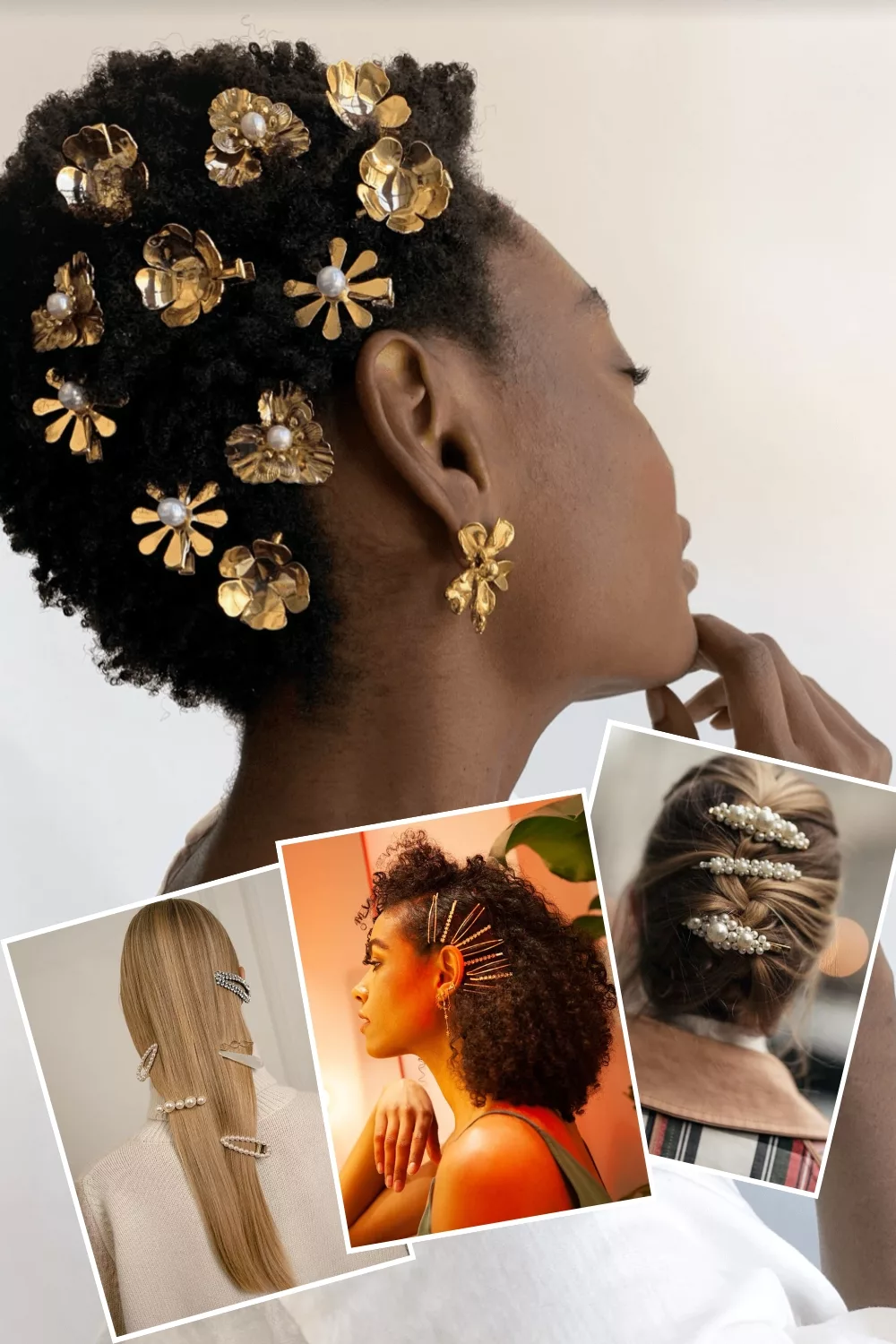 ---
How do you style your hair clips? Let us know in the comments!