Dressing for the office in the winter can be a daunting task, but have no fear! Once you have the basic equation down, you'll be well on your way to becoming a guru at winter dressing.
First, start with Fabrics. Depending on where you live, winter can be extremely harsh on your skin, health, and state of mind. Opting for thicker fabrics like wool, cashmere, cotton, and knits will guarantee comfort, style, and confidence.
For the ladies out there wanting to stay stylish during the colder months without having to sacrifice comfort, turtlenecks, cardigans, knitted sweaters and blazers will become your best friend. All these items can be layered and paired with just about anything.
COS cashmere cardigaN// Wrap skirt//COS oversized wool cardigan//Express tweed jacket//UNIQLO Heatech turtleneck //COS turtleneck
Next step is to Layer, layer, layer
Start with a thin first layer, something like a heattech long sleeve t-shirt (crewneck or V-neck) or turtleneck. Layer with a cardigan, blazer or long waistcoat made from wool, cashmere, knit, cotton or velvet fabrics. You can pair this with tailored pants, leather pants if you're feeling edgy or a midi knitted skirt paired with over the knee boots. Finish off the look with a clean sophisticated top coat either in black, grey, navy or camel hues. The wonderful thing about this is you'll be cozy and warm on your commute to work, but once you get to the office where the heat is on full blast and all those layers become a drag, you can easily strip down and take off the top jacket and second layer and only be left with the first layer. If you need to run outside for a quick coffee break, just throw on your coat over the first layer with an oversized scarf and you'll be set.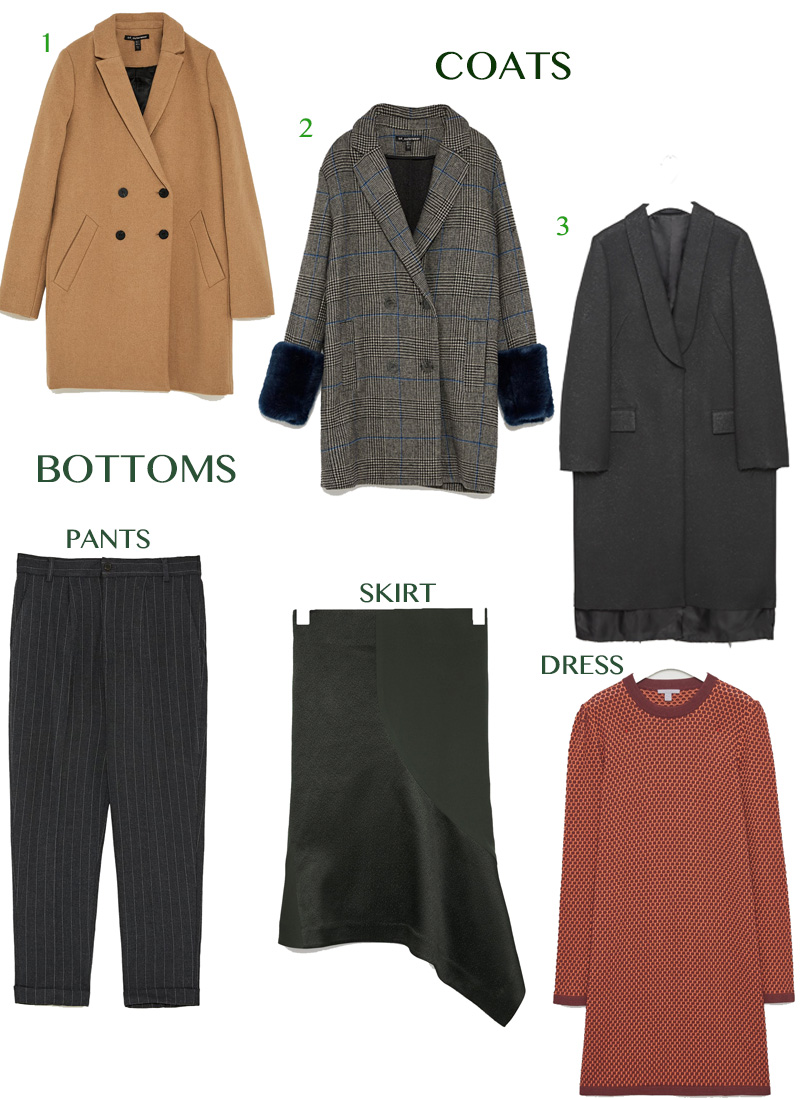 Similarly, for the men out there wanting to take on the challenge of dressing themselves stylishly, the same advice applies. The first layer should be a wrinkle free dress shirt, turtleneck, or long sleeve t-shirt. Wrinkle free shirts ensure that you won't look like a wrinkled mess once you get in the office and take off all those layers. Second layer should be a knitwear or a stylish blazer. And finally, top it all off with a topcoat for a sophisticated look., trench coat for a classic look or a quality quilted jacket from a more edgy look.
Bonobos shawl collar sweater// Bonobos wrinkle free dress shirt//Italian wool top-coat//Crew neck sweater// Flannel lined pants// cashmere scarf// Cole Haan oxford shoes
Finally, once you get the basics down, don't be afraid to experiment with different patterns, colors, and textures. For the women, opt for a velvet blazer in a statement color, Tailored pants in a bold pattern or printed skirts and dresses (florals and stripes are good options) to give your look more life. As for the men, shirts with bold prints are what you have to play with. Keep the second and third layers simple in solid colors but add a shirt with bold prints for that extra pop. You can also trade in your solid colored top coat for a plaid or patterned wool coat.
Do you have a uniform that you stick to for work? I want to know how you stay stylish in the winter months.