Maxim and I took a trip to Washington, DC last month on a whim to see the highly anticipated cherry blossom bloom. The Cherry Blossom Tree (Japanese Cherry Tree) was a special gift from Japan in 1912 to represent the close bond forged between the US and Japan and today it is the ultimate signal of spring's arrival in the capital of our country.
Each year, more than 1.5 million visitors descend upon Washington to admire the 3,000-plus trees and we decided to be among them. It was the perfect weekend to go as the cherry blossoms were in full bloom. We took the Amtrak train from New York Penn Station to DC's Union Station. Union Station, a landmark in the district, is one of the busiest rail facilities and shopping destinations in the United States and is visited by over 40 million people each year. It was a gorgeous sunny day when we arrived, and my favorite part must be that the station had a Shake Shack! If you haven't tried Shake Shack, you're missing out, hun! I also went to DC with the intention of taking some beautiful pictures of the blossoms and the amazing American landmarks housed there.
Arrived at Washington Union Station with my Andiamo carry on luggage in tow which was perfect for the weekend trip
Wearing: Andiamo Luggage || Zara Blazer || Uniqlo T-shirt || Zara Jeans || Sigerson Morrison flat mules
As far as packing goes, I decided to pack very lightly with an intention to do a bit of shopping while there. My Andiamo carry-on suitcase was the perfect companion. Not only is it sleek and durable, it held everything I needed perfectly with plenty of space for whatever I decided to pick up on my shopping venture. Oh yeah, and another reason I love to travel is for shopping ?On our first night there, we walked from our hotel past the White House and Washington monument towards the tidal basin. The basin was encircled by beautiful pink and white cherry blossom varieties. You can see the Lincoln Memorial across the water and the Washington monument stretching into the distance. We did a lot of walking that night taking in the beauty of DC and trying our hands at nighttime photography which was amazing!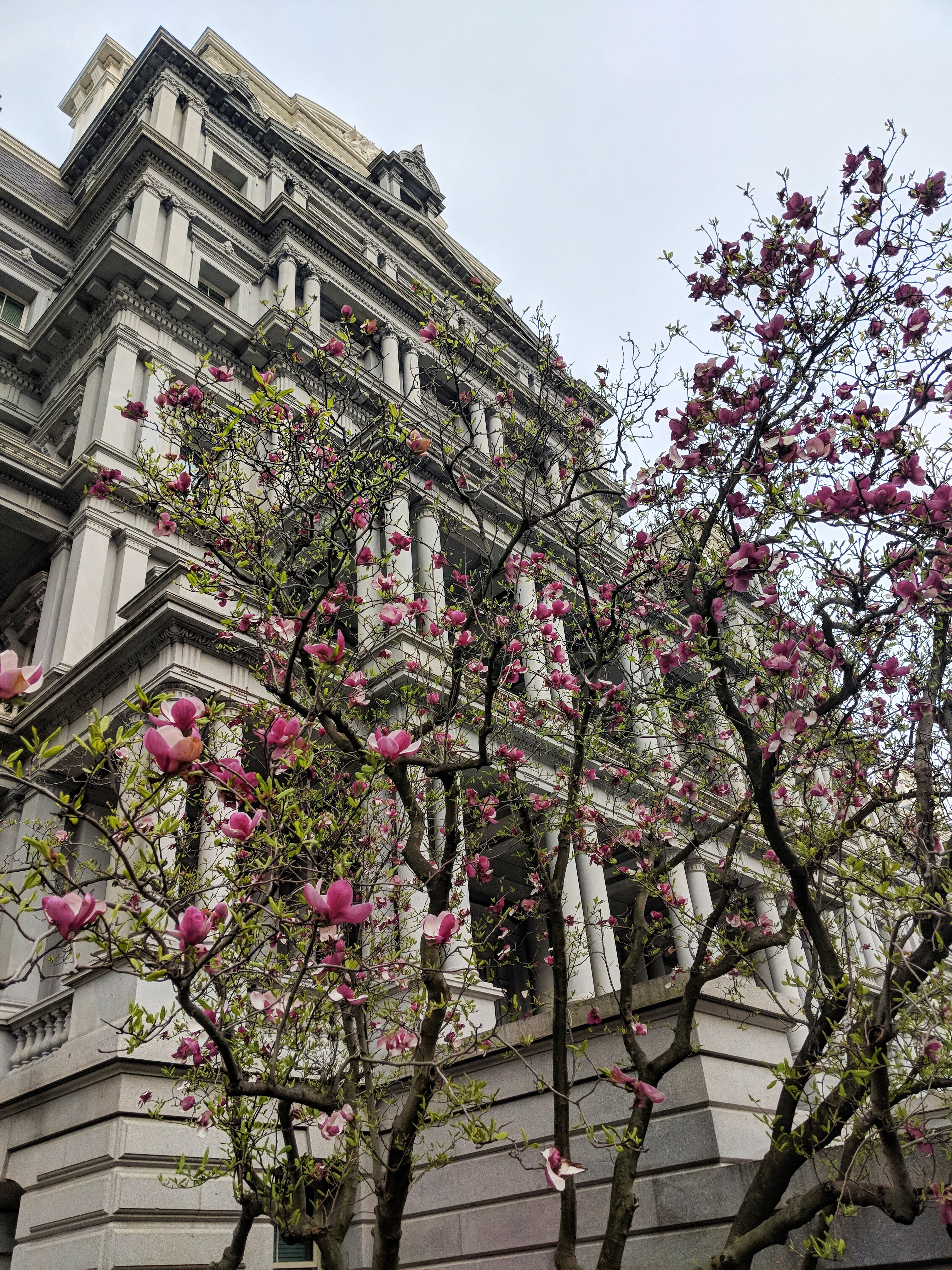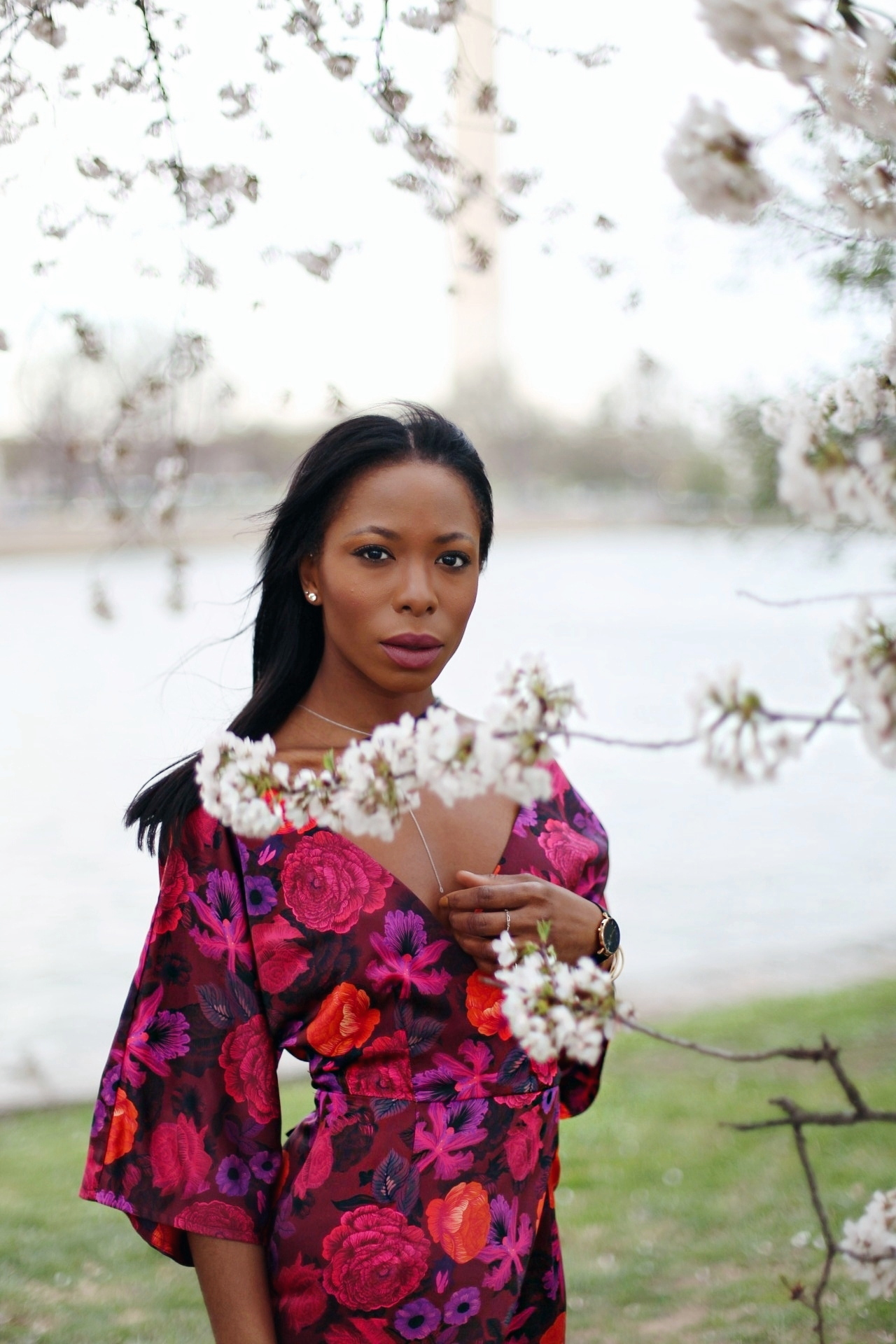 Wearing: Topshop Dress || Joie Heels

Wearing: Topshop Trench coat || &Other Stories top || Zara Jeans || Sigerson Morrison Heels
FOOD – Our favorite food place that we visited while in DC was El Sol which is a trendy hole-in-a-wall Mexican Restaurant & Taqueria near Logan Circle that had delicious burritos and refreshing drinks. El Sol was as authentic as it gets, and the food was very tasty. If you are ever in DC, it's a much try! Another favorite was Founding Farmers which is an American upscale-casual restaurant that prides itself on serving up food grown, raised and harvested on American family farms. This restaurant is conveniently located in downtown. I had the roasted vegetable & avocado sandwich and my boo had the avocado bacon burger which were both very delicious and fresh. They have an extensive menu so there's something for everyone. Another favorite was when we visited Georgetown and stumbled upon a chic counter serve vegetarian and vegan taco spot called Chaia that offers handmade corn tortillas filled with seasonal, plant-based medleys in an eco-chic two-story space.
Explored City Center DC which is a modern shopping center with high-end retailers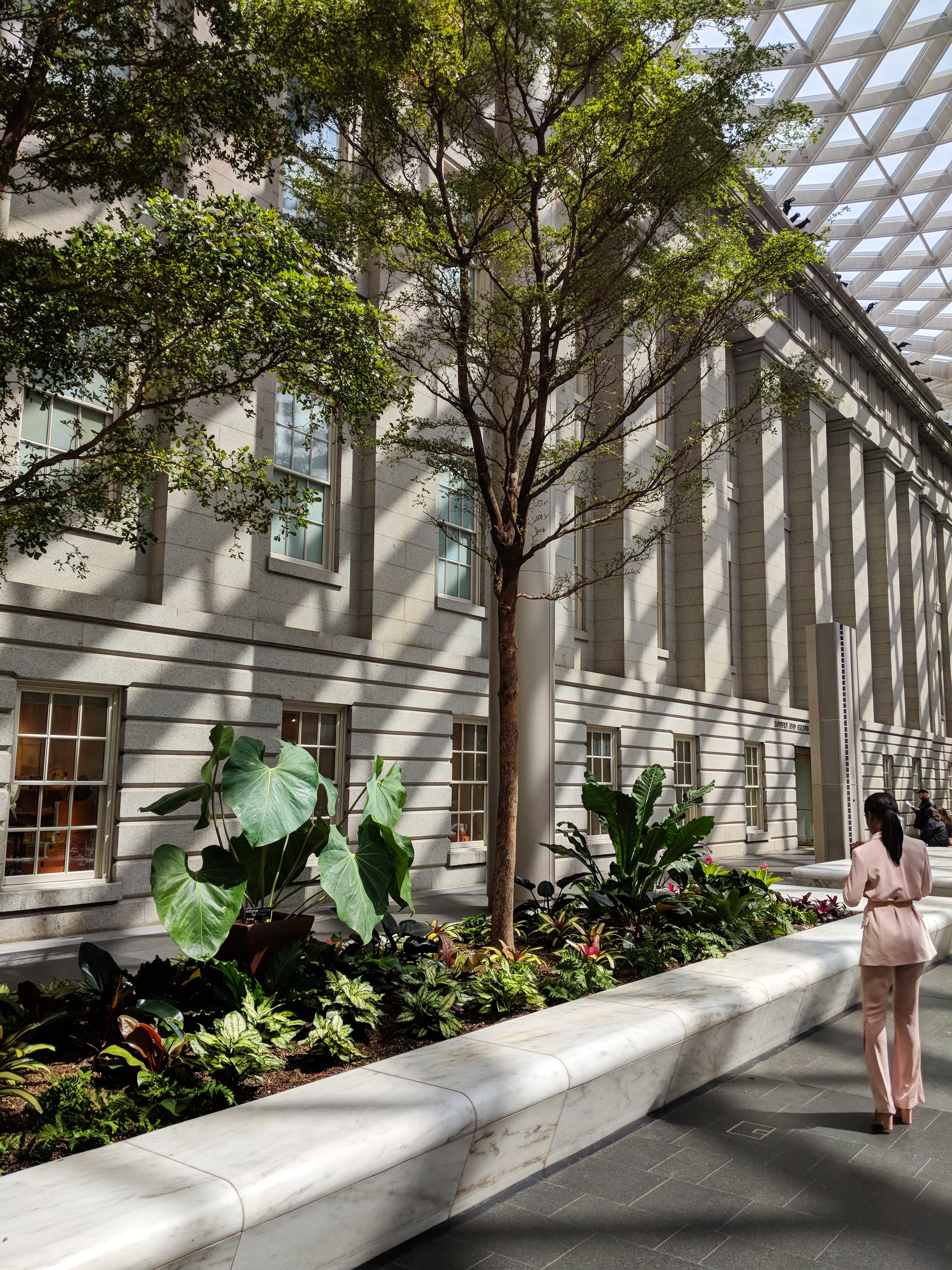 Wearing: Keepsake Pants || Zara Blazer || Steve Madden Heels || Vintage belt
We were a bit over ambitious with our itinerary and the places we wanted to see and do, so the next day we decided to wake up early and started our day with a hearty breakfast at our hotel then ventured off to visit a few museums. The first stop was the Hirshhorn Museum and Sculpture Garden which is a modern art museum that reminded me of the Whitney and MoMa in New York. After checking out some modern art we headed to Newseum, an interactive museum of news that promotes free expression and the first amendment. I really wish I had more time to spend at these museums because they were so engaging and insightful. We also went to the National portrait gallery where we saw the official portraits of Michelle and Barack Obama. Obama's portrait was simply amazing! There was a crowd of people waiting to get a photo next to the Kehinde Wiley's portrait of our previous president. The colors were vibrant, it was massive, and I would have been satisfied ending the trip having just seen that.
The Green-Book Interactive Exhibit at the National Museum of African American History that provided travelers with information on businesses that serviced African American travelers
Another highlight was visiting the National Museum of African American History & Culture. We had to wake up at 6am to reserve tickets online but we were very committed after missing the mark the previous day. This museum was probably one of my favorites because of how well thought out the exhibits were. There were very powerful moments that covered African American history, culture, and community. This museum is a must when visiting DC.
Wearing: Zara Top & Pants || Sigerson Morrison Heels || RAEN Sunglasses
Also, this is Maxim, the man behind all these gorgeous photos. I can't thank him enough for traveling with me and being a trooper!!
xX