Lots of things might happen. That's the thing about writers. They're unpredictable. They might bring you eggs in bed for breakfast, or they might all but ignore you for days.
They might bring you eggs in bed at three in the morning. Or they might wake you up for sex at three in the morning. Or make love at four in the afternoon. They might not sleep at all. Or they might sleep right through the alarm and forget to get you up for work. Or call you home from work to kill a spider.
Or refuse to speak to you after finding out you've never seen To Kill A Mockingbird. Or spend the last of the rent money on five kinds of soap. Or sell your textbooks for cash halfway through the semester. Or leave you love notes in your pockets.
Or wash your pants with Post-It notes in the pockets so your laundry comes out covered in bits of wet paper. They might cry if the Post-It notes are unread all over your pants. It's an unpredictable life.
But what happens if a writer falls in love with you?
This is a little more predictable. You will find your hemp necklace with the glass mushroom pendant around the neck of someone at a bus stop in a short story. Your favorite shoes will mysteriously disappear, and show up in a poem.
The watch you always wear, the watch you own but never wear, the fact that you've never worn a watch: they suddenly belong to characters you've never known. And yet they're you. They're not you; they're someone else entirely, but they toss their hair like you. They use the same colloquialisms as you.
They scratch their nose when they lie like you. Sometimes they will be narrators; sometimes protagonists, sometimes villains. Sometimes they will be nobodies, an unimportant, static prop. This might amuse you at first. Or confuse you. You might be bewildered when books turn into mirrors. You might try to see yourself how your beloved writer sees you when you read a poem about someone who has your middle name or prose about someone who has never seen To Kill A Mockingbird.
These poems and novels and short stories, they will scatter into the wind. You will wonder if you're wandering through the pages of some story you've never even read. There's no way to know. And no way to erase it. Even if you leave, a part of you will always be left behind.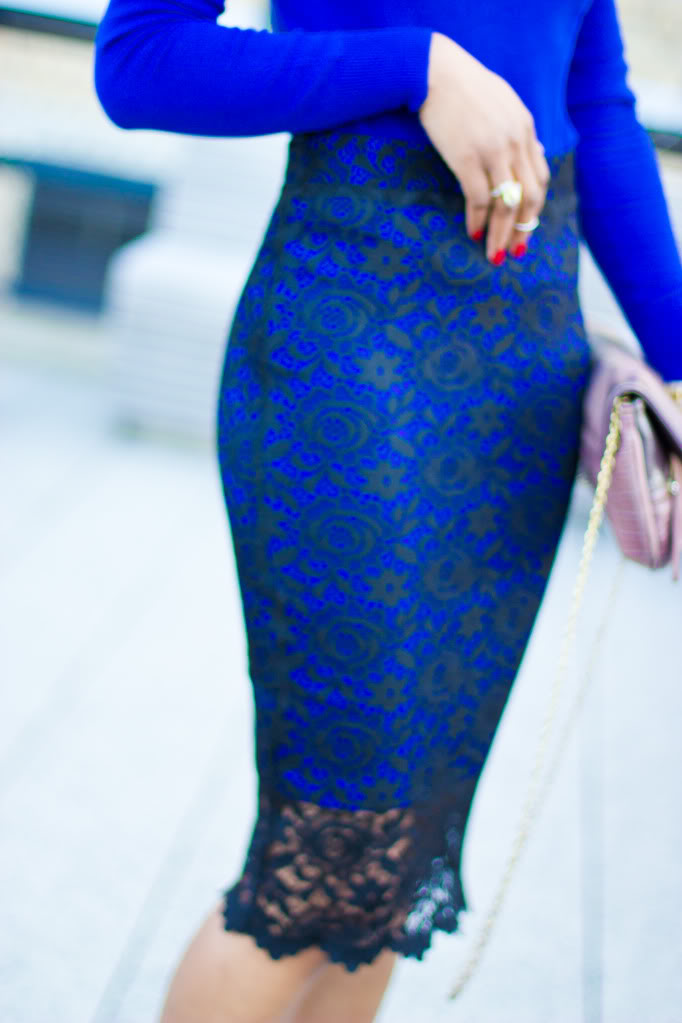 If a writer falls in love with you, you can never die.
Wearing: Zara Sweater, Topshop Skirt, Steve Madden Platform heels, Aldo Clutch, Amrita Singh Earrings
I found this lovely poem floating around Tumblr and I had to share it. I must say, I'm all for that unpredictable Life 😉
I've noticed that I have collected a whole lot of Blues, Lace, and Pencil Skirts. I have become obsessed with all three and they are all reflected in this look, but what I am looking forward to are the Spring Pastels!!
I hope You are all Having a Beautiful Day
~ Opal ~