For any fashion lover out there, attending New York Fashion Week is an ultimate dream! I remember growing up here in NYC, especially when I first started this blog sitting at home dreaming of the day that I got the opportunity to attend the shows. It was still being held at the tents in Bryant Park and seemed extremely exclusive and out of reach but I've come a long way since then and so have the shows. There's more accessibility now, not only for the people who come to the shows but also for the incredibly talented new emerging designers who get the chance to show their collections. Now that I've been getting invited to see some of the designers showing at NYFW, I like to mix things up and not only see the household names in the industry but also the new kids on the block shaping the way we dress and bringing in new perspectives. I also look at it as an opportunity to experiment with my style.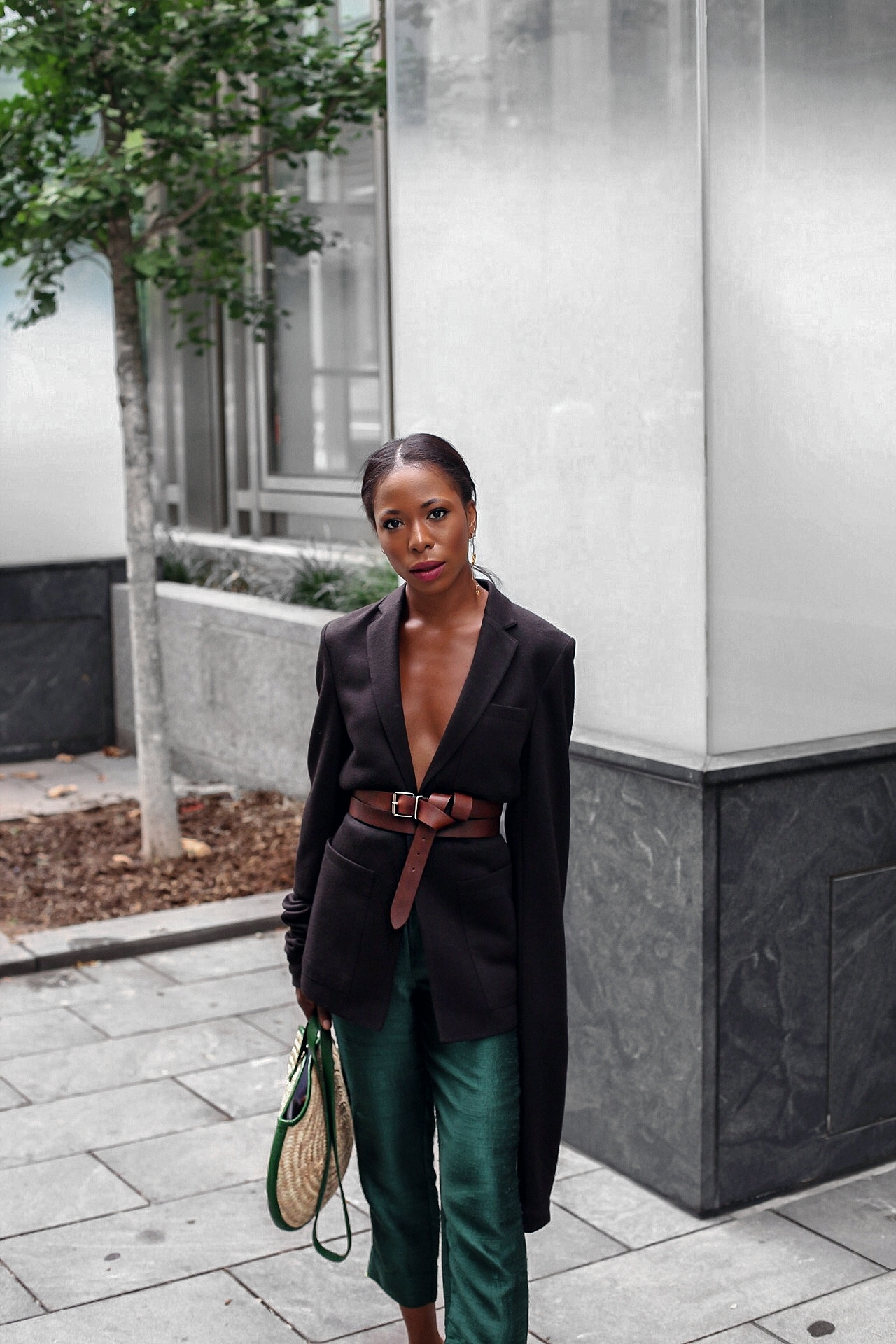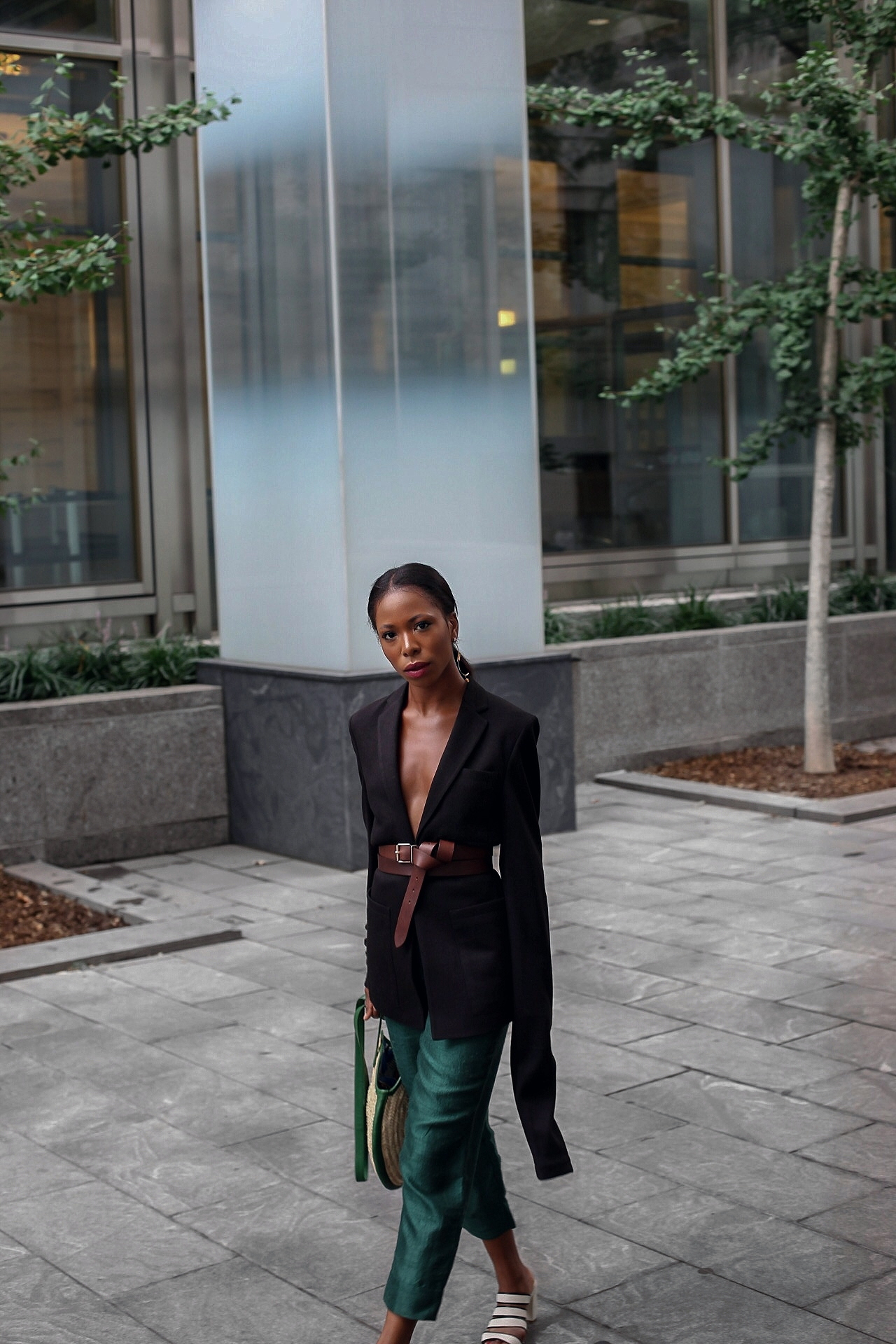 The first show I attended for the Spring Summer 2019 season is an amazing designer named Snow Xue Gao whose inspiration is a combination of her Asian heritage and Western culture. What I love the most about Snow Xue Gao's designs is the marriage of wool and printed silk fabrics for the deconstructed look of her collections. I found it very fitting to wear a blazer I borrowed from my sweet friend (similar here and here) to the show. It was a simple black blazer that is actually very elaborate at the second glance with its uniquely long sleeves that hung way beyond the tip of my fingers. I paired it with these gorgeous emerald green pants from Rhode Resort (similar here), cinched my waist with an extra long belt that I thrifted from Buffalo Exchange (similar here) and finished it all with Charlotte Stone sandals (similar here) and a Parme Marin straw bag (similar here) with the green border that perfectly tied everything together.
I also went to the Afffair show which is a Turkish brand with a global vision and touch. The collection was very sophisticated and elegant and I loved the attention to detail paid on the gorgeous dresses. Check out the pics below to judge for yourself.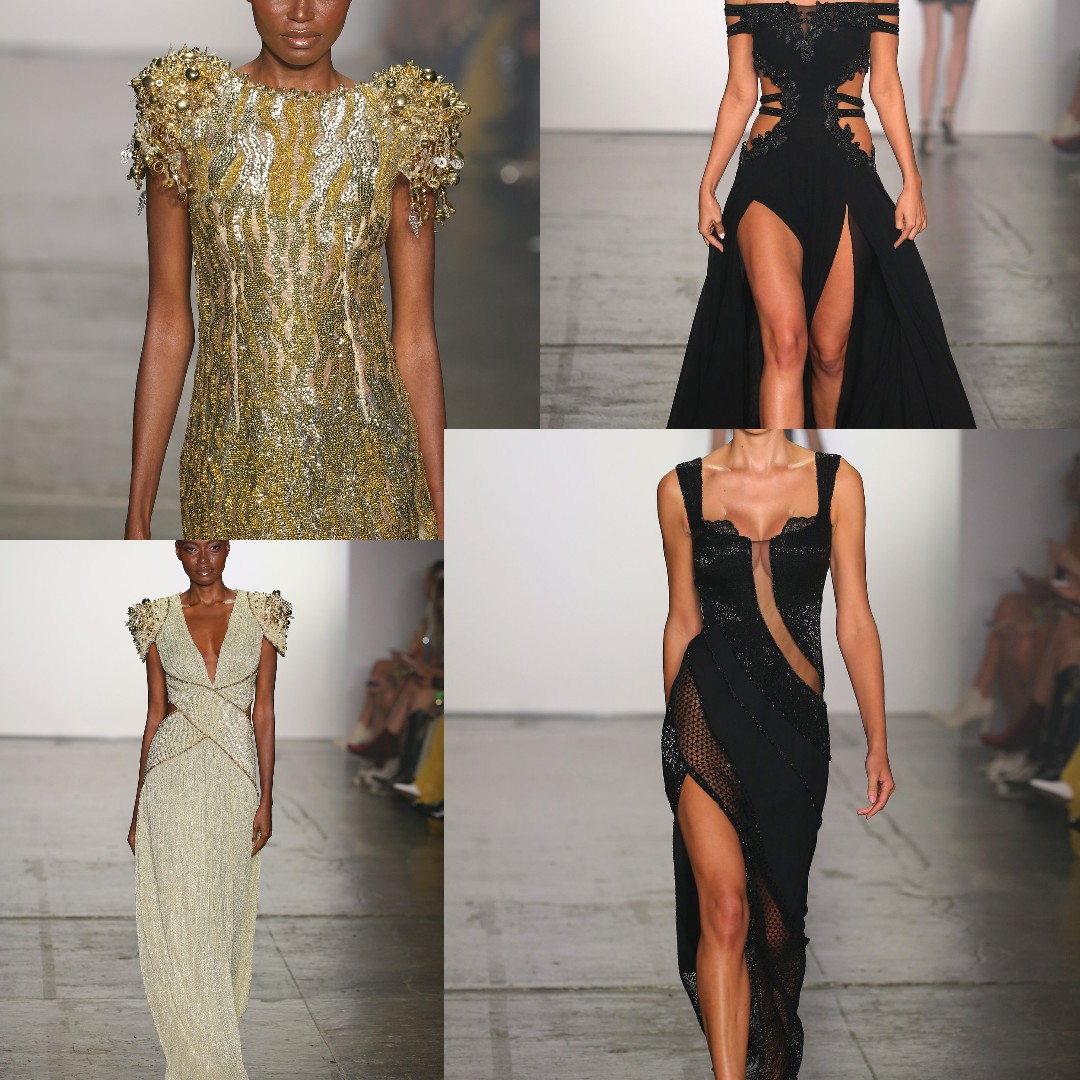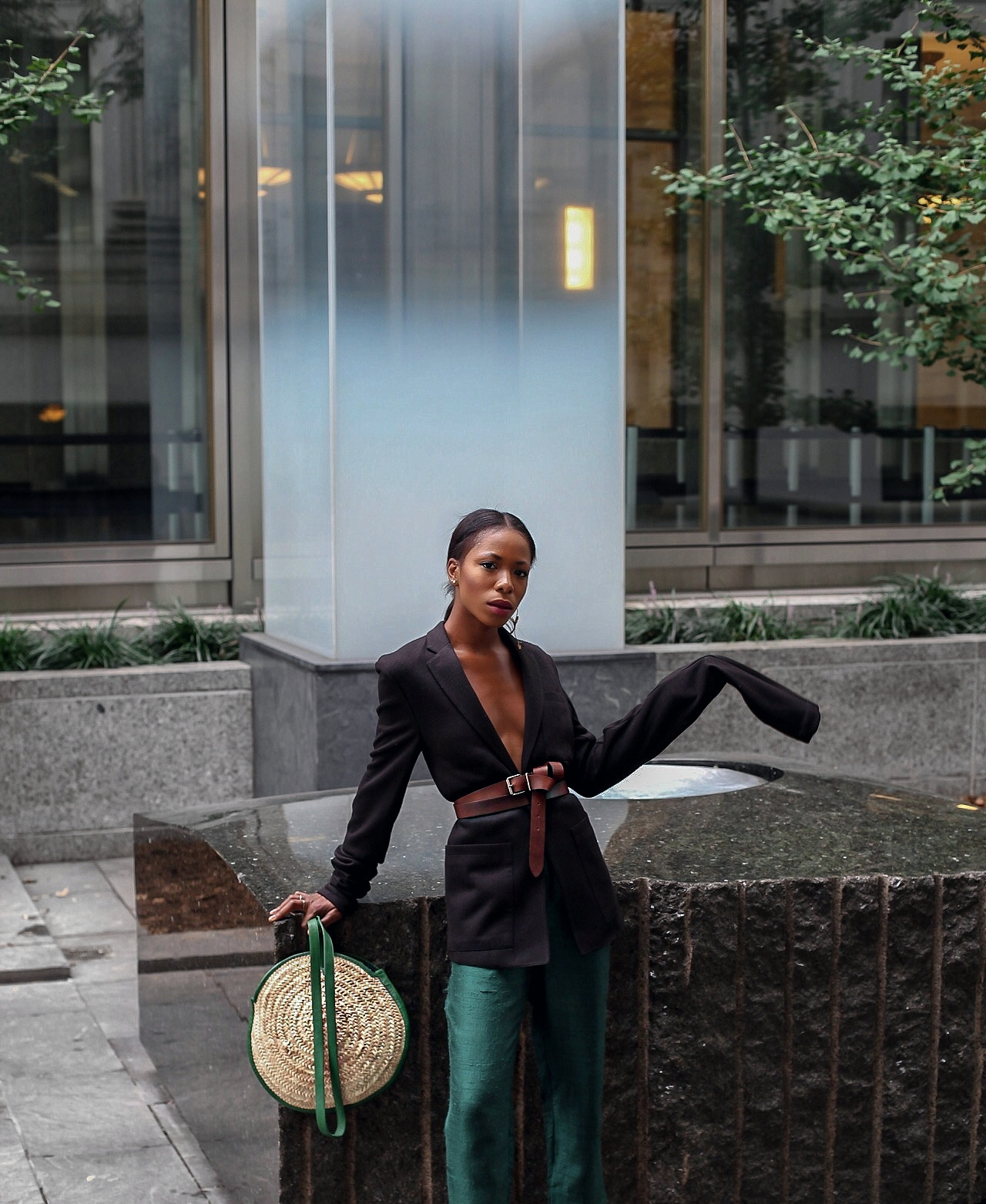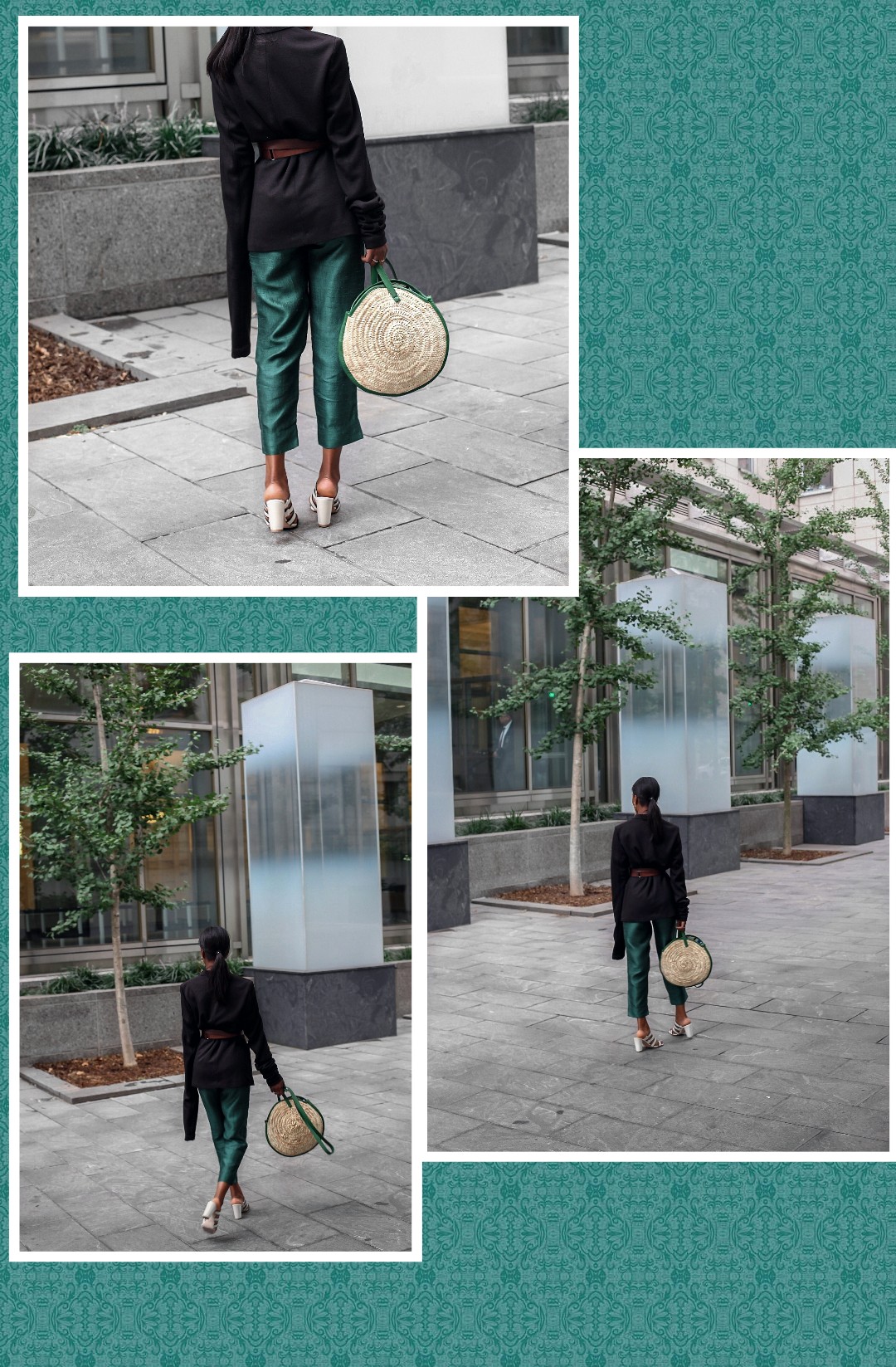 Thanks for stopping by Gems. Let me know your thoughts on this look and stay tuned for more NYFW articles!
Xx